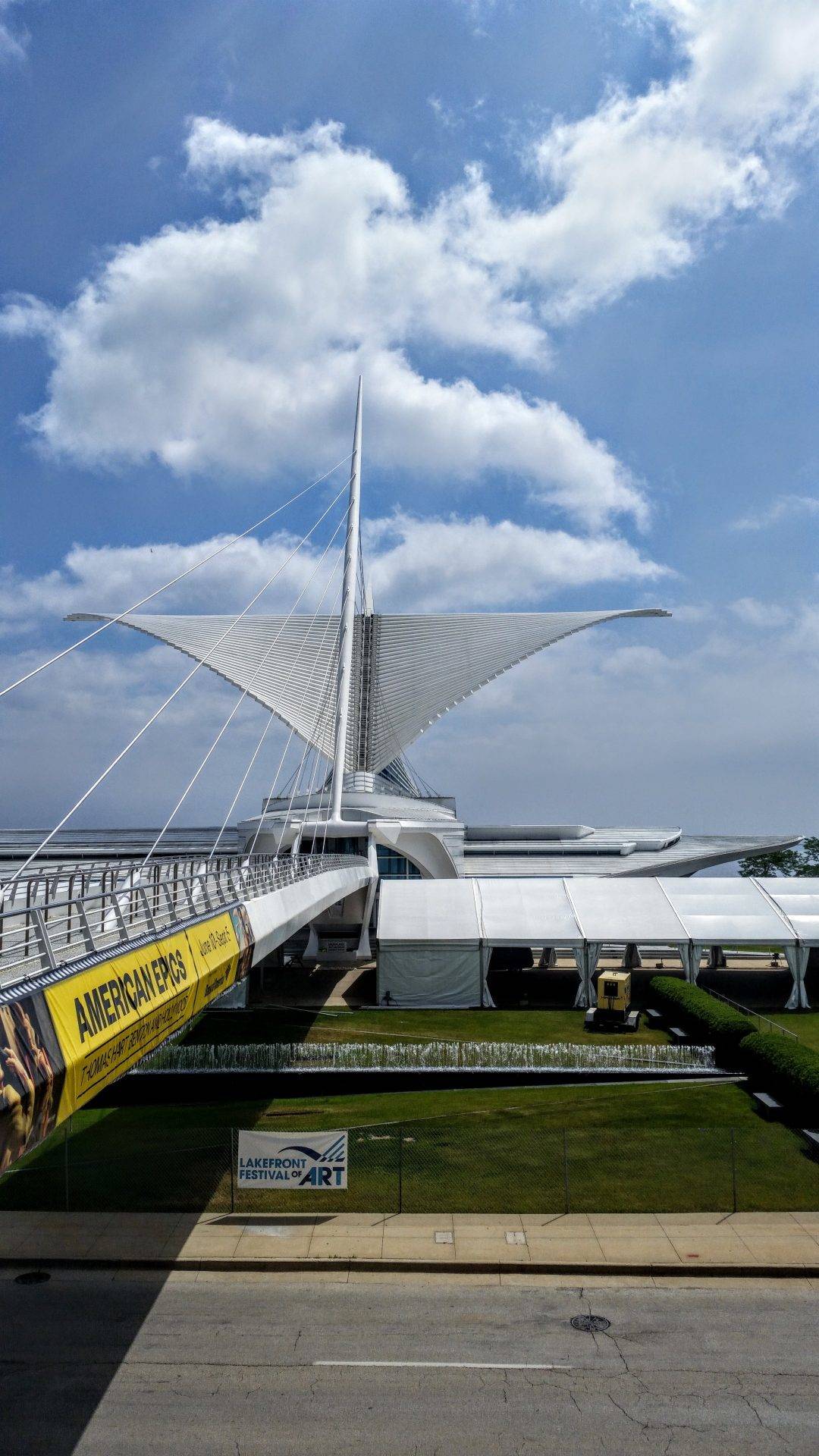 After leaving Chicago, we ventured a little farther north and into Wisconsin to Milwaukee.  We had plans with @ScottNorrisPhotography to tour around Milwaukee.  We started the day out by picking up our guide and heading to Colectivo Coffee to get a great cuppa and discuss our plans for the day.   If you're stopping by any one of the locations around Milwaukee, we highly recommend waiting for a cup of the 'Black & Tan', a pour-over brewed blend of a darker and lighter roast coffee.  A.D. can't stop talking about it!
Milwaukee Art Museum
Heading to the Milwaukee Art Museum, we spent a lot of time getting the morning lit exterior shots before heading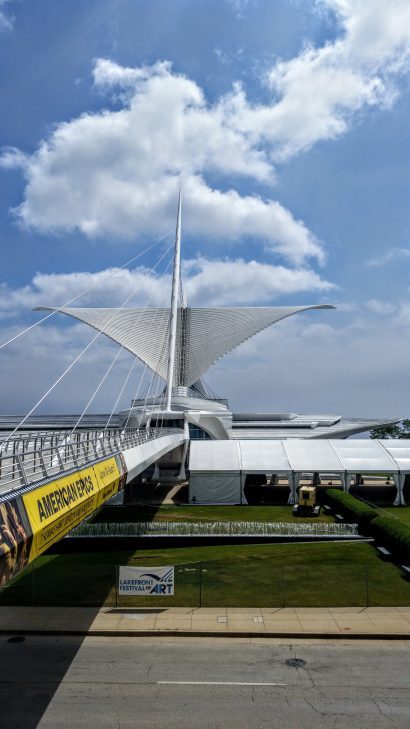 in.  It is a beautiful and gracefully designed building and we were fortunate that the wings were up. Noting that the featured exhibit was 'American Epics', I couldn't wait to get started.  Something about the style draws me in and I was craving inspiration.
American Epics
The exhibit, which runs through September 5, 2016, features artist Thomas Hart Benton, an American artist who is most known for his work depicting the Golden-Age of Hollywood and his controversial approach to representing both the good and bad in his work.  He is also the artist who first created images of Steinbeck's The Grapes of Wrath. I am fascinated by Benton's style and his ability to create depth and drama in such a limited space and recommend this exhibit to anyone headed to Milwaukee.
A.D. and Scott both really enjoyed photographing the sculptures in the new wing and we were all very disappointed in the Penelope Umbrico: Future Perfect Exhibit.  A.D. and Scott, as professional photographers, were quite hopeful to see the photography in the museum, but when they found that it was just an artist who just hacked the work of others from the internet, the disappointment was palpable.  I can't say I disagree.  They battle to make sure that their work isn't stolen by others who only intend to profit from the theft.
Don't let this deter you though, the museum is beautiful and we all really enjoyed all the other artwork!
Walking Milwaukee or Milwauking
We left the museum and headed out into the city toward Milwaukee City Hall, one of Scott's faves for photographing.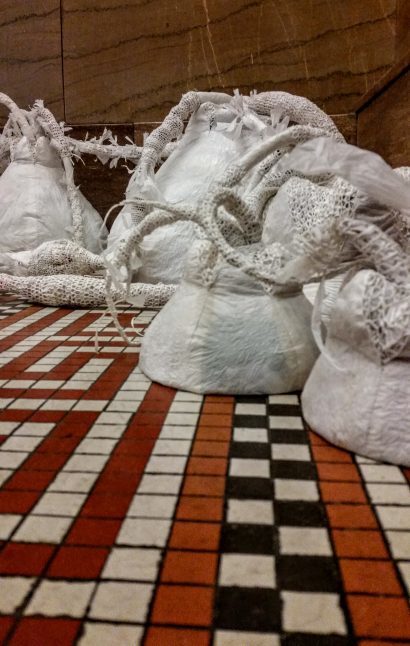 Upon entering the building, I was captivated by an artwork installation as it reminded me of a vaguely Lovecraftian landscape or something from the Voynich Manuscript.  I found the creativity enthralling and read more, Googling on the spot!  The installation, grow, is the work of Yevgeniya Kaganovich, the artist in residence at the Lynden Sculpture Garden.  What I was seeing in the Milwaukee City Hall was one of several durational installations of sculptures made from plastic bags.  The idea is that these simulated self-propagating organisms spread like weeds in the unused and overlooked areas of buildings.  It is a really fun concept and there is  community involvement through donation of bags or attending the workshops to help create the sculptures.
After leaving city hall, we wandered about for a bit longer and I was hungry.  I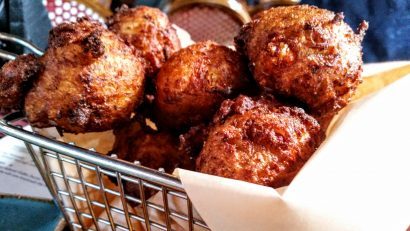 pressed for some food and we ended up at Cafe Benelux.  Since dinner was only in a couple of hours, I suggested that we share some appetizers instead of each getting a full meal and we were not disappointed!  We had the Tater Tots, the BBQ Chicken & Bacon Flatbread and the Fried Chicken Sliders and every morsel was delectable!  I am particularly obsessed with the Tater Tots.
After our late lunch, we continued on our architectural tour of the city and decided it was time to head back to Scott's for dinner.  I enjoyed learning how to make Thai Peanut Sauce with Scott's wife and son and we all sat for a lovely, home-cooked meal.
What's Up With My Food Obsession
Some might wonder why I include food in these stories and it is for one simple reason:  food is community.  When people break bread together, it is a bonding experience and one that is too often overlooked.  Enjoy a good meal with a new friend, it will brighten your soul.