This weeks prompt for Journal 52 reflects on sunshine and rain.  I found this amusing when I read it as this morning I had done something very out of character for me:  I gardened in the rain.
Who does that, seriously!?  Well, with raging allergies this year, to seemingly everything, I have not been able to garden as I usually do and have been more than a little upset by this turn of events.  Since I could no longer enjoy early to late evening gardening and was relegated to couch potato-ing, I had started to go out in the early mornings to garden, before the dew had a chance to burn off and the pollen was less mobile.
Today, I did the same.  Except as soon as I walked out the door, it started to sprinkle.  Now, I am typically not a fan of the rain and really take issue with any level of moisture on my skin if I am not bathing or swimming, but I decided that this would be even better for my allergies and went for it.
I worked for nearly two solid hours and no issue with allergies!  It not only produces a feeling of accomplishment that I haven't felt in a while, but invigorates me to continue to push myself into doing things I normally wouldn't.
It's Raining Art
The artistic inspiration to draw something for this event was a little more difficult.  I thought of the usual tropes of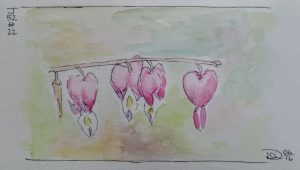 the flower with beaded drops of rain and the slop of blue watercolor running across the page, and then I determined that I wasn't going to go in that direction at all!  I decided to simply share a sketch of a flower as that is representative of what the rain has given back to me, the opportunity and joy of gardening.
This sketch was done in one of my Handbook Art Journals with a mix of my DIY Travel Watercolor Box with Sennelier Watercolors and my Windsor & Newton Cotman Watercolor set.
All materials used are available through Amazon and using this link helps support my work on Omniasubsole.com!
Get out and enjoy the rain!