Way back in Week 17 of Journal 52, there was a prompt called Rise or Fall that asked the journaler to consider 'rising up, rising above or rising again' and there was a bonus for creation of a phoenix.  The alternate prompt was 'fall'.
Well, several weeks later, and all I can think of on this morning is the rising of the sun.  It is beautiful.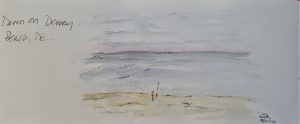 Going in to what I'm certain will be a hectic day, I remember back to the morning on Dewey Beach several weeks ago, watching the sun rise over the ocean, a lone fisherman on the beach, tending his lines and braving the windy morning.
Sometimes that feels like a good parallel for what we do each day, we get up, brave the weather – be it physical, emotional or some other rain cloud that might loom on our horizon and we make the best of the day and get through it.  In my mind there often looms that existential question of why.
I can't answer that today any better than any other, but I can say for sure that I live for the days that I am not in charge of anything, where I am free to be a partner, a daughter and a friend.  Where I am free to be myself.