Food
Let's Try Za'atar Chicken!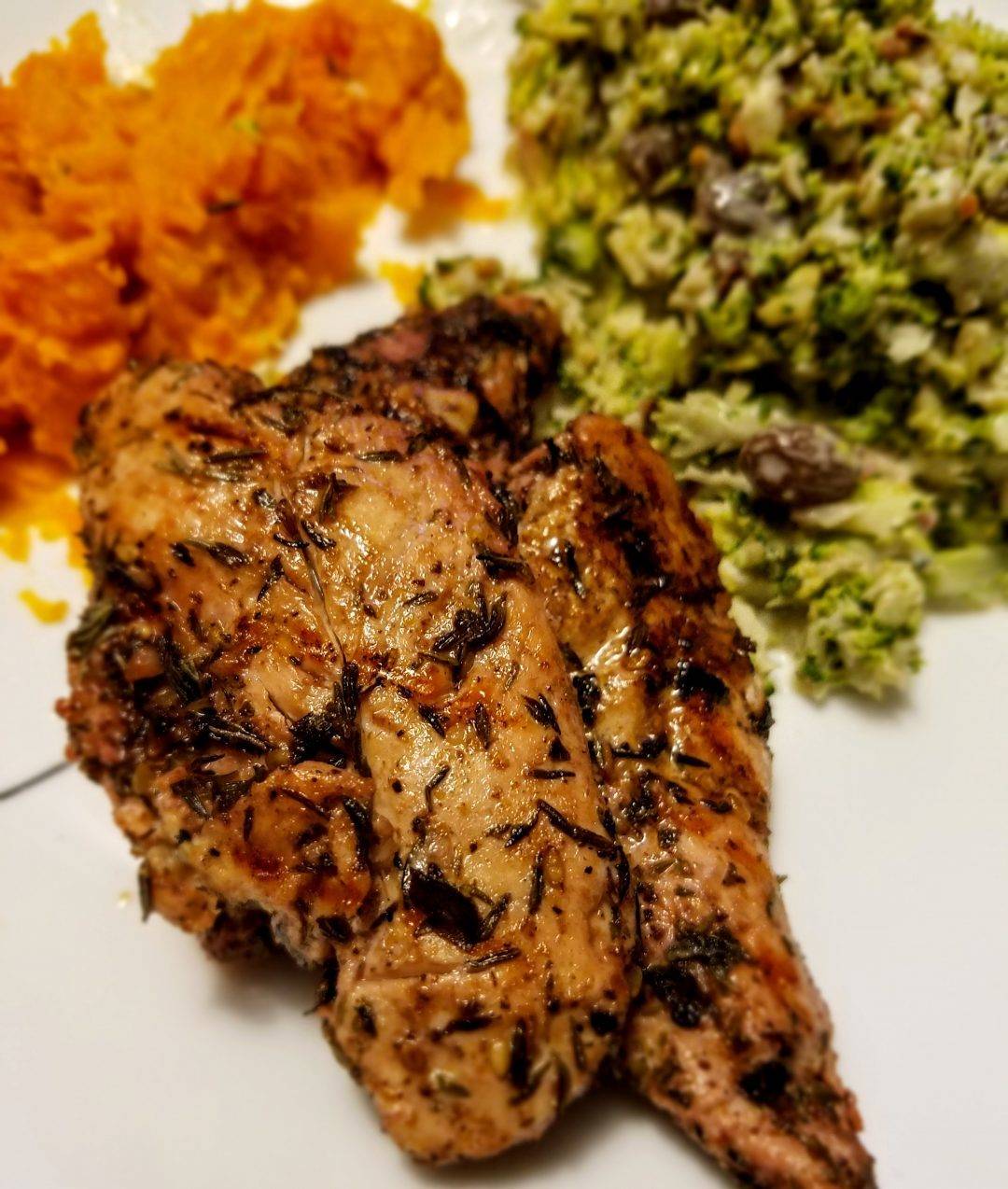 Walking around a Farmer's Market will often teach you something new.  Whether it is a new vegetable, fruit, meat or condiment, there is usually something that is out of the ordinary.  I found za'atar at the Lucky Dog Farm stand.
Za'atar is a Middle Eastern spice blend that has as many variants as a curry, and as a newb, I won't profess an end-all recipe.  The za'atar blend that I purchased is a blend of sumac, oregano, marjoram, sesame seeds, thyme and salt.  It is the beautiful purplish-red of the sumac flower with the greens of the oregano, marjoram and thyme.
One of Many Recipes for Za'atar
4 T sumac
2 T thyme
2 T oregano
2 T marjoram
1 T roasted sesame seeds
1 t sea salt, your choice
Grind together in a spice grinder, mortar and pestle or method of your choice.  Store in an airtight container.
Grilled Za'atar Chicken
~1# chicken
2 T za'atar spice blend
1 T garlic granules or around 3-4 cloves fresh garlic
1/2 t fresh ground pepper
1 pkt RealLemon or 1 fresh squeezed lemon
~1/2 c olive oil or other good oil
Rinse your chicken and place in a zipper bag or marinating container of choice.
Add the rest of the ingredients and mix around with chicken, ensuring that you get the chicken covered with all ingredients.
Marinate for 1-3 days, depending on what you have going on.
Grill and serve.
I really enjoyed this recipe and the flavors were both known and slightly exotic at the same time.  Though I must admit I was unsure of the sumac before trying it, but both the visual and flavor additions it provides to the dish are spectacular.  The other question I had was what to serve with the za'atar chicken, but found that sweet potatoes and broccoli salad are quite acceptable!
If you try the chicken and are into the flavors, don't hesitate to add this spice mixture to other dishes as well, and even added to olive oil as a dipping spice.  It is as versatile as it is delicious!