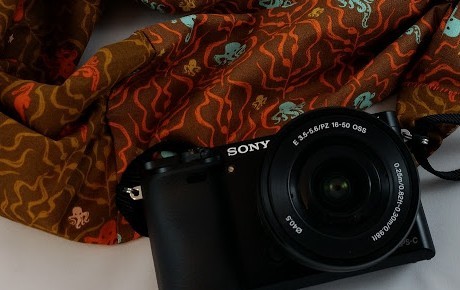 Photography newb = phewb?
Now that making up my own word is out of the way…
If you recall, I shared the other day that A.D. has gifted me an awesome new Sony a6000 DSLR camera. Those of you
who know me through A.D. will know that I'm pretty much always around photography and must have heard a million tips and tricks and such over the years.  And it's absolutely true that I have absorbed some, but mostly I have meditated through a lot of the material where I wasn't needed for support (read: I wasn't helping change a lens, getting something from a bag, etc.).  I can also parrot things that I have heard him say to help others when we are on trips, but really have no understanding.
This puts me in an interesting position.  I have little to no knowledge of the actual camera and the points that I struggle with in my art as a whole are the points I will struggle with in photography. It was pointed out by our good friend Erin, from Wandering Lens Photography, that watching me progress through the very early steps of learning the camera and photography as a whole might be something useful to other phewbs.
Since this is essentially the end of Week 1 with my camera, here is what I have learned in the week:
I don't learn by just listening anymore.  I used to be able to just listen to someone talk, remember and apply the information.  My brain apparently works much differently now.  First Tip:  Know your learning style!
Since I am now a visual learner, it makes such good sense that I struggled an inordinate amount to figure out the difference between aperture, ISO, and shutter speed.  I'm still not awesome at it, but at least this helps me understand how the three aspects relate to my exposure.  Icon Photography's page has a ton of really useful infographics that I plan to utilize in conjunction with A.D.'s tutorials!
How to import, expose, and export my photos using Adobe Lightroom. Only the basics!
So that's the extent of my learning for this week.  I am exercising diligence by taking a new photo or two each day so that I can continue my learning process and keep everything fresh in my mind.
Additionally, I am using the photography to complete the 'homework' for my Craftsy class, so we will be seeing a lot of photos and pen, ink and watercolor versions of those scenes!
Be sure to follow me on Instagram and Twitter for more frequent updates and come back next Sunday for the weekly recap!