Art
Abstract Art: Something Yellow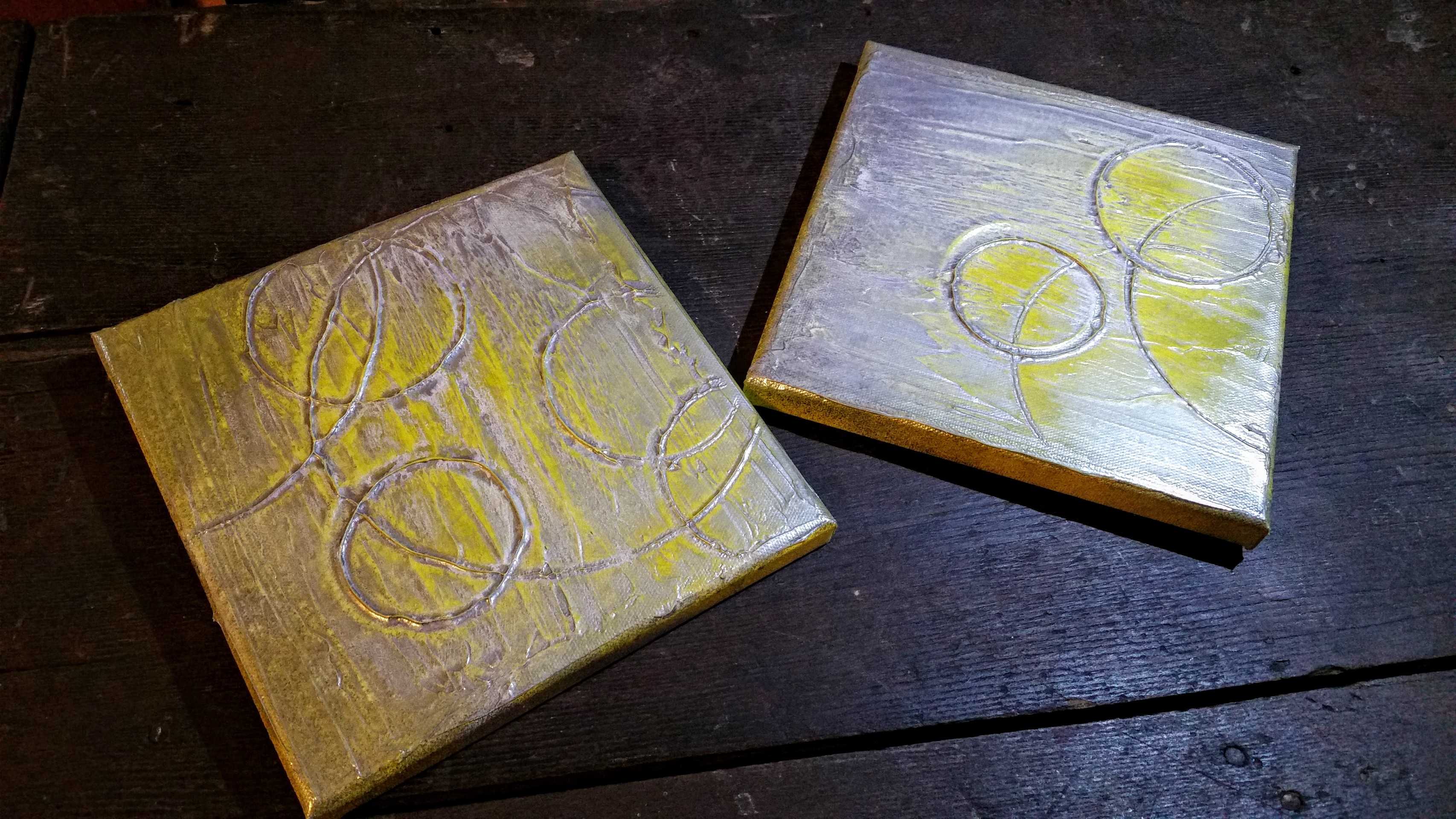 The second canvas I used to practice my abstract art was awful.  I didn't like it at all.  The colors were blah and I was not pleased.  So, after seeing several YouTube artists 'just paint over it', I realized that was the best option for it.
So, with more YouTube learning, I came across Gary Reef's channel and he has some awesome techniques that he shares.  I watched all his videos and then went to the basement and grabbed a bunch of old spray paint, some mineral spirits, a spray bottle and a large piece of cardboard.
I sloppily laid down a layer of purple acrylic paint over the entire canvas, not paying attention to any missed spots.  I put the paint thinner (Gary call them white spirits) in the spray bottle and took the canvas, spray paint and cardboard outside to got to work.
I had chrome and blue spray paint and just randomly went about color application.  Once I figured I was done, I took the paint thinner in the spray bottle and sprayed over the canvas.  I went through this process a few times and also practiced some splatter painting and this is what came out:
I like it.  There's some things that I like more than others about it, but it was vastly improved from the first attempt and I thought to hang it in our newly remodeled bathroom.  Trouble was, it was roughly the same size and color as the mirror and I thought that would look bizarre as the only space to hang is to the left of the mirror.
I needed smaller canvas.
On my next trip to Big Box Craft, I picked up two  8 x 8 canvas.  Much better.
I got my materials together again and put a lot more thought into the construction and coloration of the final product.  I had also bought a bunch more spray paint in awesome colors as it was on sale for less than $3 a can at my local hardware!
I first laid down the molding paste in a super-thick layer on each canvas and used my palate knife to smooth and texturize and some old lids and canning rings to make the circular designs in the paste.  Messy fun.
There isn't a picture of the canvas after this step, so big fail there.  I let the molding paste dry thoroughly for a couple of days and then took everything outside and added the yellow spray paint, which I also allowed to dry overnight.
It really is stunning to me that I have high-end photography equipment at my disposal and my pictures look as poor as they do.  I digress.
I then used some basic white acrylic to put a layer over the yellow, took everything outside again and sprayed with the chrome spray paint and then with the mineral spirits.  I added a pop of color in the circles with the yellow spray paint again and let the mess slosh around on the canvas.
When I was satisfied that I was really done, I brought the canvases inside, laid flat and let them dry for a couple of days.  They retained the awesome shine and I'm ready to hang today!
Lesson learned:  You can always start over.