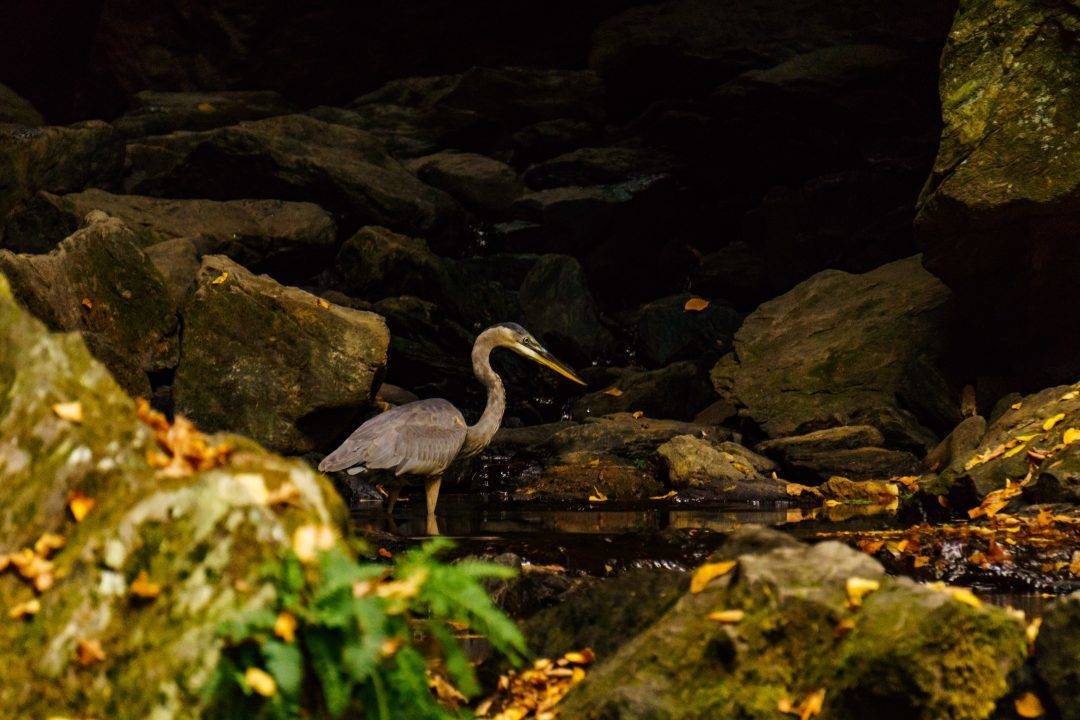 This is the second part of a two-part series on our Hudson Valley Overnight, so head back and start at Part 1, we'll be here when you're ready!
The Dover Stone Church
Back on the road, we arrived at the parking lot of the Dover Elementary School.  There are four approved lots in town where those interested in the hike can park.  We got all of our gear together for the trek to the Dover Stone Church.  This is a pretty easy hike with a total of a little over a mile in distance and ending in a fantastic cave and an enclosed waterfall.  The bummer of a drought is that a lot of waterfalls go missing!
The most enchanting part of the hike was a Great Blue Heron in the stream, feeding on the minnows.  He was coy but patient and I am so not great with my camera.  I really struggled to get a shot that wasn't blurry, black or fuzzy.  Fortunately, I had A.D. by my side and he just gave me the settings so I could fumble a little bit less!  He is also to credit for the post-processing on the cover photo for this story.
The Last Hurrah!
We eventually got back to the car and headed on to our last stop of the day, the Cold Spring House.  Unfortunately, it was heavily surrounded by active homes that didn't scream safety.  We were unable to get the drone up to get some aerial shots.  We elected to turn around and head toward home.  Driving through Tannersville, NY, we spotted the American Glory BBQ and decided that a late lunch was in order.  This was the end of vacation and I wasn't going to pass up the Mac & Cheese Balls and decided to pair them with the Smoked BBQ Pork Spring Rolls.  I am so glad that I decided to go big, as there are few food experiences that rival the Mac & Cheese Ball. Epic.
More to Explore in the Hudson Valley
It's amazing to me that A.D. and I packed this much into just a touch over 24 hours.  It felt amazing and excited to go overnight and it was everything that I needed!
I am grateful.  I can't wait to explore more in the Hudson Valley!