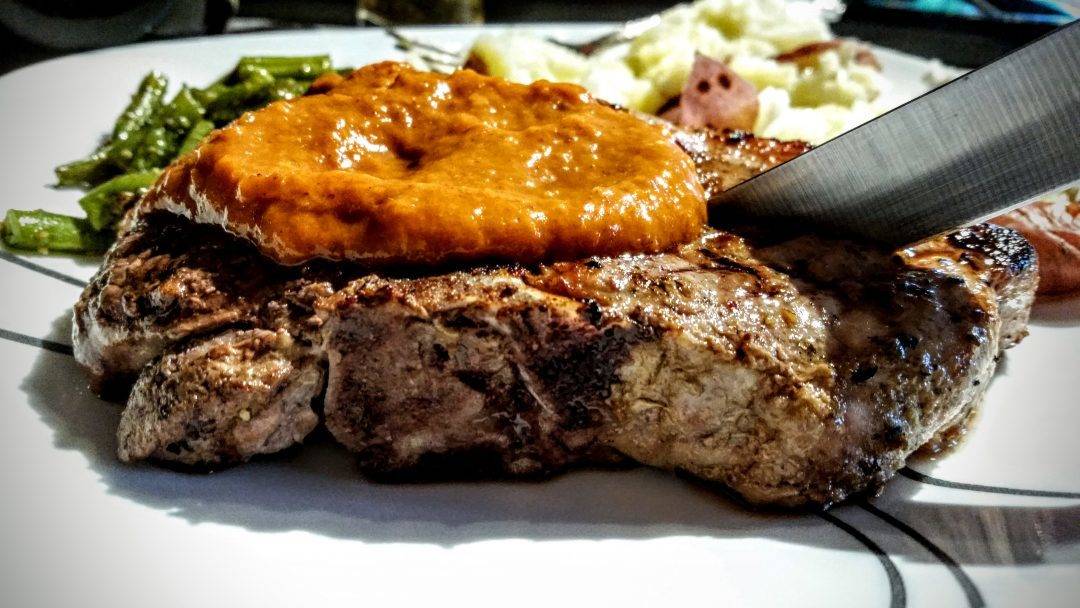 We love barbecue.  I've mentioned that before, I'm certain.  The trouble with barbecue is that most store-bought sauces are simply loaded with sugar!
So what's a low-sugar, high-fat eater like me to do?  Make my own!
After a lot of research, I found a recipe that looked intriguing at the Preheat to 350 blog.  The blog's host, Lisa Kelso, has created a wonderful recipe and it turned out beautifully.  Except I really like my barbecue sauce pretty spicy, and this wasn't.  So I tweaked it…just a little.  And then I did some variations and made A.D. try them all.
Basic Sugar-Free Barbecue Sauce
The Goods
3 Tb fat (butter, EVOO, bacon fat, etc)
2 medium onions, chopped
1 head fresh garlic, minced
1 Qt homegrown tomatoes (or use a 28 oz can)
3/4 c homemade tomato paste (or use 6 oz can)
1/2 c apple cider vinegar
2 Tb smoked paprika
1 Tb Ancho chile powder
2 Tb spicy mustard (or mustard of your choice)
2 Tb tamari sauce
2 Tb fish sauce
1/4 t stevia
3 Tb Chipotle Tabasco
1 t ground cinnamon
2 Tb liquid smoke
3 Tb cornstarch
3 Tb of cold water, give or take
The Gear
6 qt or so, non-reactive heavy bottom sauce pan
wooden spoon or other non-reactive stirring utensil
2 quart jars with lids
ladle (optional)
blender (optional)
The Process
Over medium heat, add your fat to the saucepan and add the chopped onions and garlic.  Sautee until onions are translucent, caramelize as desired.
Add all ingredients except the cornstarch and water and simmer over low heat until you are near the consistency of a good thick sauce.
Make a slurry with the cornstarch and cold water and once mixed, gently stir into the simmering sauce.  It should thicken pretty rapidly after you add the slurry.
Ladle about half of the sauce into the blender (don't overfill!) and blend.  Pour into a quart jar and seal the lid.
Repeat for the remaining barbecue sauce.
If you don't think you will use all of this sauce from the refrigerator in the span of about 4 days, you should can in a water bath.
That's it.  I did try to variations, once with fresh peaches and the other with coffee.  A.D. is a fan of the basic barbecue sauce and while he liked the peach variation, it didn't excite him.  He really didn't like the coffee variation, but in fairness, I should have taken more time with it.
Enjoy your 'cue, and as always, if you're interested in supporting me and getting what I'm using, head to my Amazon Affiliate Link!